1 - A rousing game of Die Siedler Von Catan. This is truly a gamer's game that we've been playing for years with our bestest buds. None of us are "gamers" in the stereotypical sense - but for whatever reason - the four of us glommed on to this game and it is never a dull moment when trading sheep for wheat. (I was in the lead for a respectable period early on, thankyouverymuch).
2 - Rediscovering a LONG lost Radiohead cd (missing for a good few years). I've since ripped it to my ITunes - never to leave my side again. Welcome home, my love. BTW, I just read that Phil Selway turned 40 this month. Cool.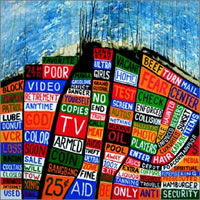 3 - Free & borrowed books from the library
The best of the bunch is Waiting for Daisy, by Peggy Orenstein. I randomly picked it up along with all of the yarn-eye-candy books that I planned on only scanning for the pretty pictures. Then my friend asked me yesterday if I'd heard of the book - she was going to buy it for us to share. I cracked the spine moments after we got off the phone and now I'm halfway finished. What a luxury it is to stick your nose in a book all afternoon, but I digress. If you've been the unfortunate recipient of infertility "treatment", then this book may just be right up your alley.
Here's one little snippet I borrowed from Amazon:
"Clomid was my gateway drug; the one you take because, Why not -- everyone's doing it. Just five tiny pills. They'll give you a boost, maybe get you where you need to go. It's true, some women can stop there. For others, Clomid becomes infertility's version of Reefer Madness. First you smoke a little grass, then you're selling your body on a street corner for crack. First you pop a little Clomid, suddenly you're taking out a second mortgage for another round of in vitro fertilization (IVF). You've become hope's bitch, willing to destroy your career, your marriage, your self-respect for another taste of its seductive high."
Becoming hope's bitch? Well said.
I'm pretty sure that there is a happy ending because the inside flap indicates that this family does end up with the child "Daisy" that they've been "Waiting" for - and amazingly their marraige remains intact. (If you know the ending - shhh! - don't tell. I want to be pleasantly surprised).
Ok, more Highlights from the weekend....
4 -
Stephanie's Strawberry Spinach Salad Recipe
. Yum!
5 - Meeting with a favorite blogger family, and anticipation of meeting with another very soon!
6 - Foraging baby-things for my neice from the treacherous hallway closet where it is all hidden from sight.
7 - Season Finale (& Beach Day) of The Office on TIVO!! Subsequent tears from laughing.
Has anyone else experienced firewalking?
8 - Potential quilt pattern for my coveted QuALT fabrics.
9 - Four Glorious Days Off from Work!!!!
10 - Final highlight, of course, Iris.