How's about trying some of these in your next Birthday Cake?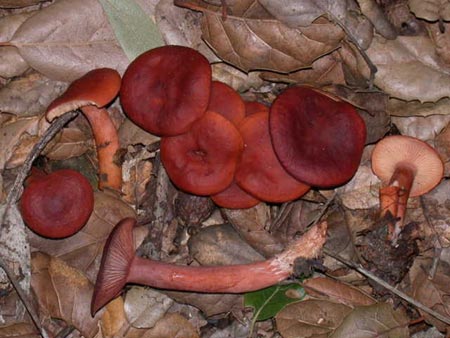 What you see pictured above are glorious Candy Cap Mushrooms. Aren't they beautiful? I've yet to see a fresh one myself, but recently scored a small container of these caramel-scented, maple-syrup flavored shrooms in dehydrated form. And, yes, I did use them in my father's birthday dessert. Pictures to follow.
First time I made the Candy Cap Mushroom's acquaintence was in Mendocino, CA at my favorite restaurant
Cafe Beaujolais
when I ordered this dish:
Pan Roasted California Sturgeon Fillet
House Made Tagliatelle, Truffle Emulsion Sauce,
Wild Mushrooms, Beets and Snap Peas
The waitress explained that the hard to pinpoint, surprising secret ingredient was Candy Cap Mushroom. I embarassed my husband when I asked the waitress to kindly tell the chef how "F'ing Delicious" I thought the dish was. She did & the laughs from the kitchen made the meal that much more enjoyable.
I have since obtained the recipe for the Cafe Beaujolais sturgeon and as fearless as I think I am in the kitchen...enjoying this dish (my official "
Final Meal
") will be reserved for my all too infrequent visits to Mendocino.*
Ok, so back to the weekend festivities...
Dad got to choose between cake and bread pudding for his daughter-made birthday treat. I was 98% certain that he'd choose the pudding - but I wasn't going to jinx my odds by telling him that I planned to experiment with mushrooms as part of it. Dad didn't let me down & chose his favorite...old school bread pudding. He gave me permission to play with the recipe a bit and put in a request for a brandy/rum sauce if possible. Woot!
Here is the Bread Pudding Recipe
in case you were interested. And, HERE are the shrooms:
It was a very simple recipe that had me scalding heavy whipping cream and then steeping dried Candy Caps in it for an hour. The house smelled very sweet - and maybe a little like curry.
I was supposed to use "half a loaf of pullman-sized brioche". So, yeah, I used nearly a full loaf of Challah. Pretty similar, I thought.
Here is after an hour steeping. Didn't look all that dramatically different, but it sure tasted lovely.
Here is the pudding after straining shrooms from cream, adding eggs, soaking bread with custard, sprinkling golden raisins and currants and cooking for a while. Golden yummy-ness!
One piece left after all was said and done. My clever brother in law figured out the secret ingredient after some hints. And, nobody freaked out that I used mushrooms in this dessert. I think that they may expect as much from me.
To celebrate this Kitchen Adventure Post and to share a recent download that I am currently in love with I leave you with this - a cover of an old
Bread
tune by the band called
Cake
. Makes perfect sense, doesn't it?
*Note to self: discuss Autumn vacation planning with DH tonight or sooner.